When selecting a company to provide safety, be sure to make qualifications your first consideration.
We are able to provide highly qualified Handler/K9 teams for high profile IED sweeps.
From the Prime minister of Israel to the Aga Khan to the Pasadena Rose Parade, we have the experience it takes to keep people safe. Our certified K9 teams are qualified to provide the skills and qualifications needed for the job. We offer teams available to be contracted on a short or long term basis as needed.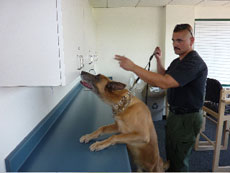 So. Pasadena P.D. trained by Mike Herstik, security sweep at the Rose Bowl.